During the past four months, ten students from the University of Indianapolis interned full-time on Capitol Hill and in policy-oriented non-profit organizations in Washington, D.C., while studying, in depth, political communication, leadership, and the three branches of government in an evening class with Georgetown Professor Sam Potolicchio. The students also met regularly with Senator Richard Lugar for thoughtful discussions on contemporary political topics, civility and bipartisanship, and how to be an effective leader.
The Lugar Academy Semester in Washington Program was created by Senator Lugar and the University of Indianapolis in January 2013 as an expansion of the UIndy Lugar Center for Tomorrow's leaders. The goal of the Lugar Academy is to develop future leaders and equip them with the tools they need to make a positive impact in their community. Most, but not all, of the students had a background in political science before coming to Washington, and each had a passion for service. All of the students left with a better understanding of how to communicate their ideas persuasively, formulate sound and thoughtful policy, and work with others to achieve their goals.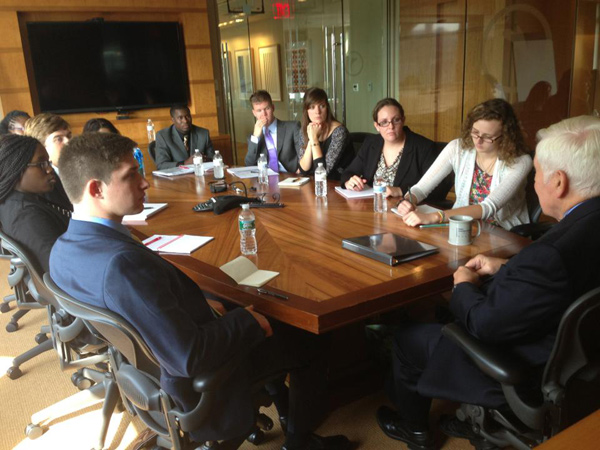 Lugar Academy students sit down with Senator Lugar
As Ben Keller, a sophomore from Hamlet, Indiana, who interned in Senator Dan Coats' office put it, "My experience has been fulfilling and has solidified and amplified my interest in political science. It puts all of the things that I have learned over the years into practice, and I get to see the processes that I have studied and memorized and turns it into something real, and I can't believe that I am able to do this."
Rebekah Proctor, a senior from Greenwood who interned in Congressman Todd Young's office is continuing her public service with an internship in the Indiana General Assembly this spring. "My knowledge has grown exponentially in terms of understanding how Congress works," says Rebekah. "I've had the opportunity to interact with brilliant people and make meaningful connections not only with the Lugar Academy group, but with others in the Washington community."
When they weren't studying or interning, the students took advantage of the myriad cultural and educational opportunities in D.C., including a trip to George Washington's estate at Mt. Vernon, kayaking on the Potomac River, and visiting the dozens of museums and monuments within walking distance of their apartments on Capitol Hill. One student, Gwen DeBaun, from Fishers, Indiana, even managed to observe an oral argument before the Supreme Court.
Through it all, they maintained the optimistic, adventurous, and service-oriented spirit characteristic of UIndy students. The Lugar Center looks forward to witnessing their future successes and is eager to begin the spring 2014 semester with a new group of future leaders.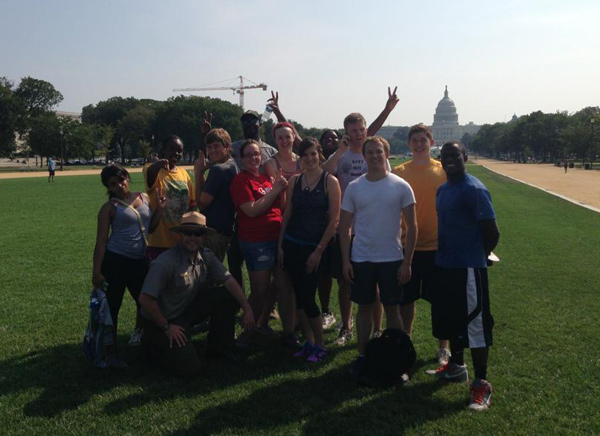 Lugar Academy students volunteer to rehabilitate the National Mall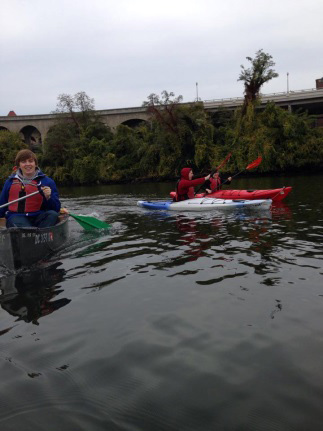 Kayaking on the Potomac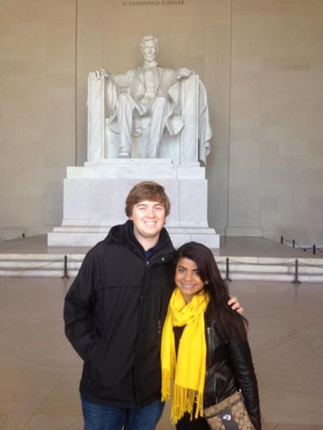 Leanne Bassi and Ben Keller at the Lincoln Memorial
Lugar Academy Class of Fall 2013
Student
Internship Host
Ben Keller
Lea Johnson
Leanne Bassi
Jayveer Gray
Rebekah Proctor
Kyle Williams
Sam Martin
Nini Nnachetta
Emily Cherry
Gwen Debaun

Senator Dan Coats
The Lugar Center
Senator Dan Coats
Senator Donnelly
Congressman Todd Young
Congresswoman Brooks
Senator Pat Roberts
German Marshall Fund of the United States
The Lugar Center
The Lugar Center
Lugar Academy Class of Spring 2014
Student
Internship Host
Rachael Junard
Emmanuel Bass
Kyle Michel

Congressman Luke Messer
The Lugar Center
Senator Joe Donnelly