Senator Lugar joins President Obama, Mayor Greg Ballard at Ivy Tech Community College in Indianapolis

Professionals
Our Work
Ivy Tech Community College
February 6, 2015
2:15 PM
Senator Lugar joined President Obama and Indianapolis Mayor Greg Ballard at the Ivy Tech Community College Indianapolis campus on Friday, February 6, 2015. Watch the event here.
President Obama made the following remarks about Senator Lugar:
"[I also want to recognize]…somebody who has been a great friend for the people of this state, the people of this nation, a great friend to me personally, one of the people who have ensured that America is safe for so many years, former Senator and Mayor of Indianapolis Dick Lugar.
On the way over here, Dick and I were reminiscing about the first foreign trip I ever took was with Dick Lugar. He was the savvy veteran and I was the green behind the ears freshman. We went to Russia. We were both interested in nuclear proliferation. He had really written the book on it. And Dick Lugar seems like kind of a relaxed guy, but if you're on a trip with him, he will wear you out. And then at one point we were actually held by a Russian colonel at the airport for about three hours which normally might have made people nervous, but Dick had been around the block a few times so he just took a nap. It was fine. It got cleared up.
…
America is poised for another good year. Indianapolis is posed for another good year, as long as Washington works to keep this progress going. And I was struck as I was listening to the Mayor's introduction. Here in Indiana, we have been able to do some good things because we haven't been so worried about Democrat/Republican. We've focused more on trying to getting the job done, and that attitude we're hoping to kind of infect Washington with, trying to adapt that same attitude when it comes to the problems that we face going forward, and Dick Lugar was a great example of that.
…
I believe in a crazy thing Dick Lugar once wrote. Dick said the other party is also patriotic and may have good ideas. That's shocking. So, I know Mayor Ballard believes the same thing and certainly I do."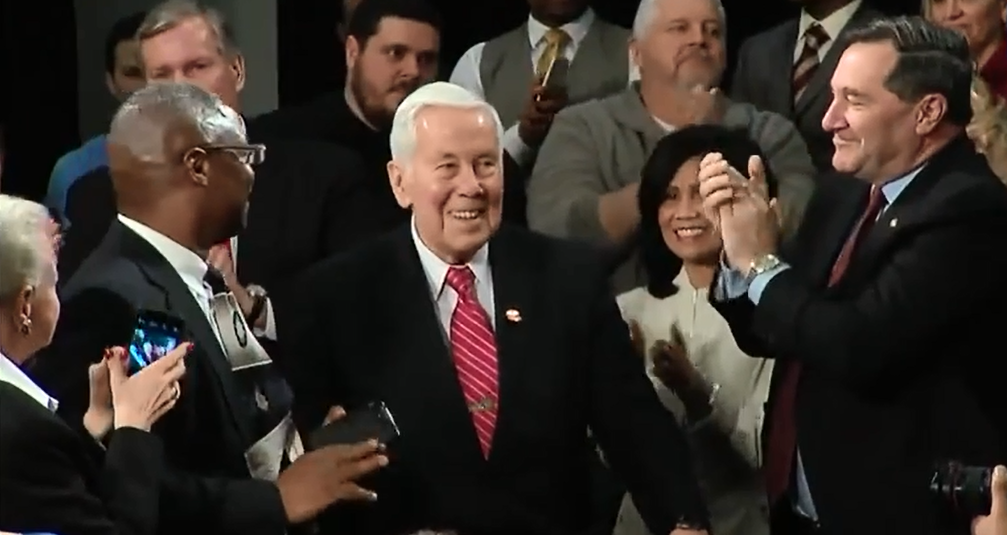 President Obama recognizes Senator Lugar at Ivy Tech Community College in Indianapolis