Lugar Diplomacy Series hosts philanthropist Howard Buffett
Washington, D.C.
April 26, 2017
Event Sponsor: The Lugar Center, the Meridian Institute, Abbott, and DuPont
Philanthropist Howard G. Buffett, whose family foundation has spent millions to improve the lives of poor farmers in Africa and Central and South America, was the featured speaker at the fourth meeting of the Lugar Diplomacy Series.
Buffett discussed the complex challenges of agricultural development with a group of ambassadors and diplomats from Africa, the Americas and Europe. Buffett runs a 1,110-acre farm in Illinois and farms with his son in Nebraska. As chairman and CEO of the Howard G. Buffett Foundation, which invests in global food security and conflict resolution, he has personally visited 139 countries to oversee the foundation's work and seek innovative solutions to global problems.
At the opening of the off-the-record meeting, Sen. Lugar said, "The challenges surrounding food--availability, market access, price, nutrition, soil health, water scarcity and regrettably, conflict--continue to leave millions of people at risk of chronic hunger. Complicating these many humanitarian challenges are the national security risks that starving populations pose as we witness the greatest number of refugees fleeing from conflict since the end of World War II."
Buffett is a U.N. Goodwill Ambassador Against Hunger and has authored eight books on conservation, wildlife, and the human condition, including the New York Times bestseller 40 Chances: Finding Hope in a Hungry World. For his part, Sen. Lugar has made global food security one of the pillars of TLC's work. Noting that Buffett has called for a "brown revolution" to improve soil health, Sen. Lugar observed, "We share a common interest in the need for new science to help us feed a world population of more than 9 billion people by 2050. I believe we need a "21st Century Green Revolution." That requires U.S. leadership to advance research in agriculture, but not just with seeds and pests, but also in scientific advances for soil health, water conservation, and climate resilience."
The Lugar Diplomacy Series was launched in October 2016, to strengthen diplomatic relationships and to promote diplomats' engagement with leading American figures in both domestic and international affairs. The first speaker was retired four-star Gen. David Petraeus, former head of the CIA and former U.S. commander in Iraq and Afghanistan, followed by United States Supreme Court Associate Justice Elena Kagan, and U.S. Senator Susan Collins of Maine.
The meeting, held at the downtown Washington offices of the Lugar Diplomacy Series co-sponsor Meridian Institute, a non-profit that brings diverse interests together to solve global problems, was also sponsored by Abbott and DuPont. The next scheduled speaker in the Lugar Diplomacy Series is retired Gen. Michael Hayden, a former Director of the CIA and of the National Security Agency.
The Lugar Center is dedicated to proposing solutions to global problems that will define the 21st Century. The Center seeks to engage the public, global policymakers, and future leaders on critical issues; it provides a forum for timely commentary by respected experts; and it is committed to thoughtful analysis and civil dialogue that facilitate bipartisan governance.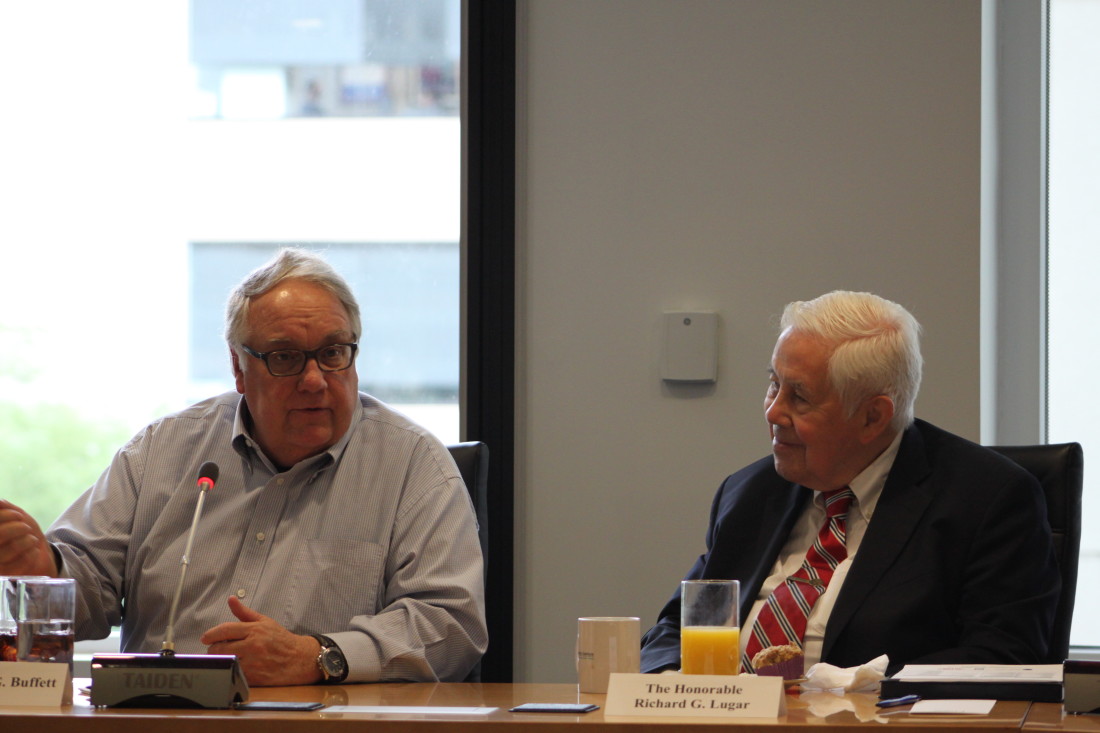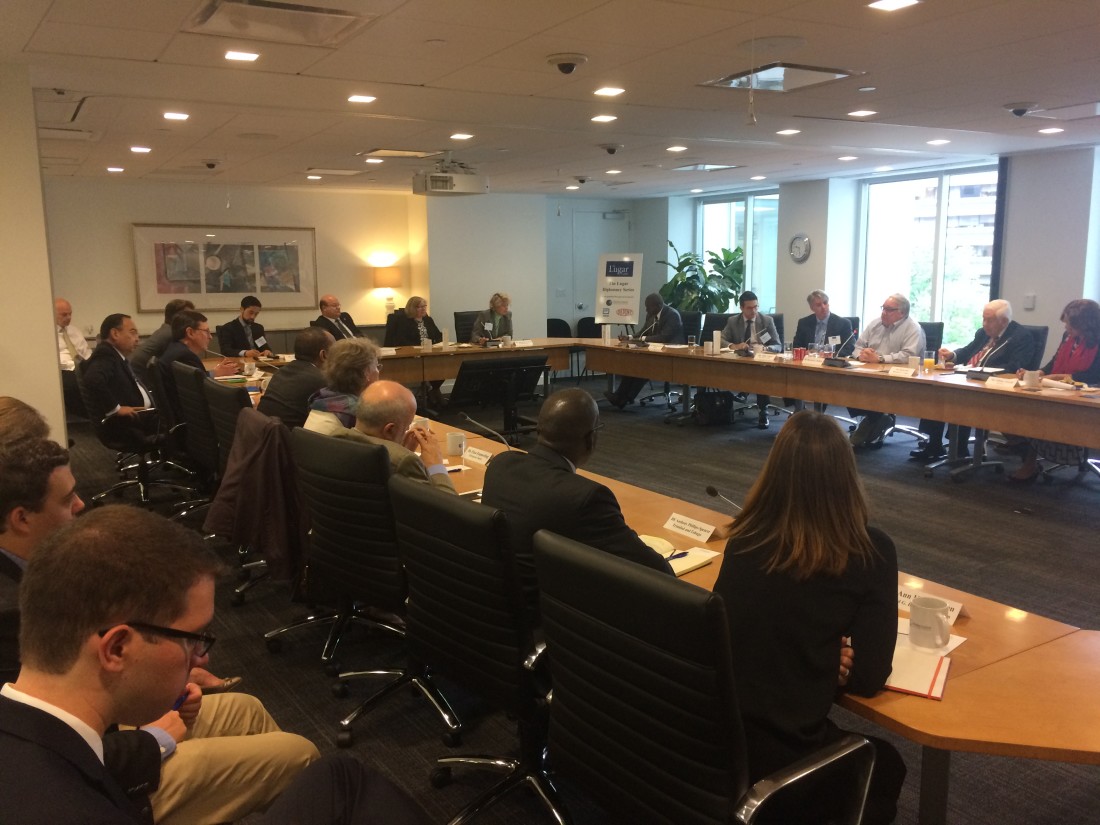 Philanthropist and farmer Howard Buffett addresses the fourth installment of the Lugar Diplomacy Series in Washington, D.C.