Senator Richard G. Lugar in Montenegro
German Marshall Fund
October 7, 2013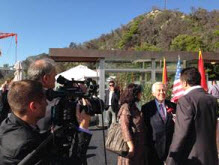 Budva, Montenegro – GMF Senior Transatlantic Fellow Senator Richard Lugar embarked on a three day trip to Montenegro last week to advocate for enhanced economic, political, and security relations between the United States and Montenegro.

Senator Lugar, a long-time advocate of NATO expansion, expressed his support for Montenegro's aspirations for membership in NATO: "I am confident of the strength of Montenegro's candidacy and the contributions it is already making to European Security… I believe Montenegro is ready to take advantage of the alliance's benefits and will live up to the responsibilities of membership."

In a meeting with the Prime Minister and the President of Montenegro, the Senator highlighted the importance of diplomatic engagement and commended the Montenegrin government for demonstrating their commitment to cooperation with the U.S. through their founding membership in the Lugar Diplomacy Institute at GMF.

The Lugar Diplomacy Institute informs, advises, and facilitates dialogue between the foreign diplomatic corps in Washington and the United States Congress. The Institute convenes regular meetings with Ambassadors, members of Congress, and experts to openly discuss issues of mutual concern, as well as provides training and networking opportunities for new diplomats in Washington.

For more information, please contact Maia Comeau, Director of the Lugar Diplomacy Institute, at 202-683-2650 or mcomeau@gmfus.org.